If you're tired of wearing the same pair of jeans or khakis day after day, you should consider investing in a pair of leather pants. They offer a unique style that's found in traditional trousers, and being that they are made of leather, they are very comfortable to wear.
With that said, you can't believe everything you read or hear about leather pants. There's a lot of misinformation out there. To separate the facts from the fiction, we've compiled a list of seven of the most common myths about leather pants.
#1) Only Available in Brown and Black
Brown and black are two of the most popular colors used for leather pants. Ever since leather pants first appeared many decades ago, they've been made in brown and black colors. However, you can still find leather pants in other colors.
There are red leather pants, for instance. Red is a bold and bright color that's guaranteed to turn heads. As long as matches your shirt or top, you can wear a pair of red leather pants. Other colors in which leather pants are made include yellow, green, light blue, navy and shades thereof. With so many colors, you can express yourself by choosing a unique pair of leather pants in your preferred color.
#2) All Made of the Same Type of Leather
Leather pants are defined by their use of genuine leather. That's essentially what distinguishes them from other types of pants. Here's the thing: Not all leather pants are made of the same type of leather. There are several different types of leather. The qualities of a pair of leather pants can vary depending on the type of leather used in its construction.
Some leather pants are made of Napa leather. Napa leather has a smaller, finer grain than that of nearly all other types of leather. The ultra-fine grain results in a softer surface than that of other types of leather.
Some leather pants are also made of stretch leather. Stretch leather consists of genuine leather with an elastic material like lycra or polyester. It receives its namesake from its stretchy properties. When an elastic material is used in conjunction with genuine leather, it forms a stretchy new material. This leather-elastic hybrid material is then used to make stretch leather pants.
#3) Absorbs Water
Contrary to popular belief, leather pants don't absorb water. They are actually less absorbent than most other materials, including cotton, linen and wool. Pants made of one of these traditional materials are likely to absorb water. If you wear them outdoors when it's raining, they'll become soaked and heavy. Leather pants are less absorbent. Rather than soaking up water, they'll repel water.
You should try to keep your leather pants away from water. In other words, don't wear them outdoors if it's pouring rain and you don't have a raincoat or umbrella. Nonetheless, short-term exposure to rain won't soak your leather pants. Since they are made of genuine leather, leather pants will repel water so that you stay dry.
#4) Not Available in Cargo Styles
Leather pants are, in fact, available in cargo styles. Cargo leather pants feature the same design as other cargo pants. They have standard pockets on the front and right sides, and they have cargo pockets farther down the pant legs. With cargo leather pants, you'll get the best of both worlds. They offer the same qualities as other leather pants but with the added benefits of cargo pockets.
Cargo leather pants have cargo pockets about halfway down the pant legs. The presence of these cargo pockets makes them ideal when carrying small items. If your job requires you to carry tools or other small items, you can place them inside the cargo pockets. All cargo leather pants have extra pockets on the side, which are known as cargo pockets.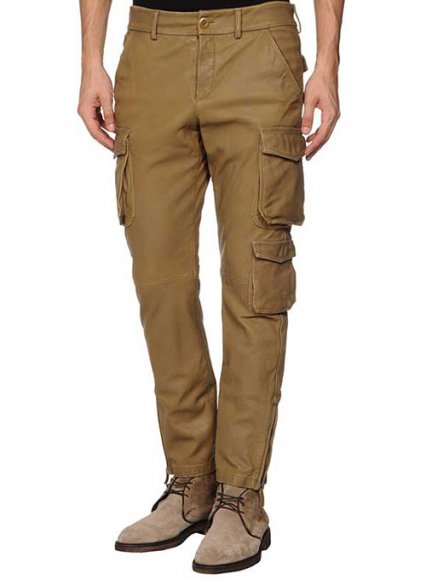 #5) Difficult to Maintain
Leather pants aren't difficult to maintain. They generally require some time and work to maintain; all pants, in fact, must be maintained. When compared to other types of pants, though, leather pants are usually easier to maintain.
You don't have to wash and dry leather pants. Most leather pants are resistant to stains. When they do get dirty, however, you can them with a damp washcloth. Just blot your leather pants with a damp washcloth — and a small amount of gentle dish soap if necessary — until they come clean. You can then dry your leather pants by hanging them on a line. In about 30 minutes to an hour, your leather pants should be dry and ready for use in your daily outfits.
#6) Scratchy Texture
Another common myth is that leather pants have a scratchy texture. Some people assume that genuine leather is scratchy, but this couldn't be further from the truth. Genuine leather is soft and gentle. It's softer, in fact, than most organic materials.
You can rest assured knowing that leather pants aren't scratchy or otherwise irritating. They are very soft. With their soft texture, you can wear leather pants for long hours without experiencing discomfort. They are gentle on your skin, allowing you to comfortably wear them for eight or more hours a day. The same can't be said for other types of pants. Many other types of pants have a scratchy texture that will cause discomfort when worn for long periods.
#7) Expensive
While there are plenty of high-priced leather pants, you don't have to spend a fortune to acquire a pair of premium and genuine leather pants. Here at LeatherCult, you can shop from a wide range of premium leather pants at low prices.
Not only do we offer unbeatable prices, but all our leather pants come with custom sizing at no additional charge. Other stores charge extra for custom sizing — and that's even if they offer it. When you buy leather pants from LeatherCult, you'll have the freedom of specifying custom measurements at no additional charge. This is just one more reason to choose LeatherCult when shopping for leather pants.