The right fabric can make a world of difference in both the comfort and aesthetics of clothing. Whether it's a jacket, shirt, pants, dress, etc., you should pay close attention to the fabric from which it was made. Some of the most common fabrics used in the construction of clothing include cotton, wool, silk, polyester, tweed, and leather. Of these fabrics, there's no better choice than leather, and here's why.
Leather is Classic
With leather, you can rest assured knowing that it's a classic, timeless fabric that's been used in the construction of clothing for over a century (yes, it's really that old). Fashion trends come and go; what's "hot" one year may be gone the next. However, leather remains one of the world's most popular fabrics for clothing, as it's used to create to everything from shirts and pants to jackets, leggings and even accessories like belts and bracelets. Regardless of your personal style, you can't go wrong with a genuine leather garment. The classic nature of this fabric make it the perfect choice for fashion-forward men and women alike.
It's Versatile
There are dozens upon dozens of ways in which leather garments can be worn. Some women prefer the sleek and stylish look of a black leather dress, which is a great way to make a fashion statement at parties and events. Leather leggings have also become a popular choice among women. Pairing them with a long blouse will enhance your image in a fun and flirty manner. Guys can also benefit from leather clothing. Leather jackets, shirts and pants are all excellent choices for guys. The sheer versatility of leather is among the many reasons why so many people choose this fabric over other materials, but even this is just the tip of the iceberg when it comes to the benefits of choosing leather garments.
Doesn't Absorb Odors
A lesser-known benefit of leather is the simple fact that it does not absorb odors like many other fabrics and materials. Why is this important? Well, if you plan on staying outdoors and/or being physically active, you may end up sweating. This is the human body's way of cooling down and regulating its temperature. While sweating isn't necessarily bad, it can produce some unwelcome odors, in which case you'll want to choose your clothing a bit more carefully. Traditional cotton and wool clothing has a tendency to absorb and hold bad odors, making it a poor choice for situations such as this. A better option is to choose leather clothing, which does not hold or otherwise retain bad odors.
It's Comfortable
Because it is made of actual animal hide, leather is incredibly soft, supple and comfortable to wear. It's hard to describe just how comfortable leather is without feeling it for yourself. Traditional fabrics tend to have a rough, almost chalky texture that's particularly uncomfortable when placed upon bare skin. This isn't a problem with leather, however, as it's incredibly soft.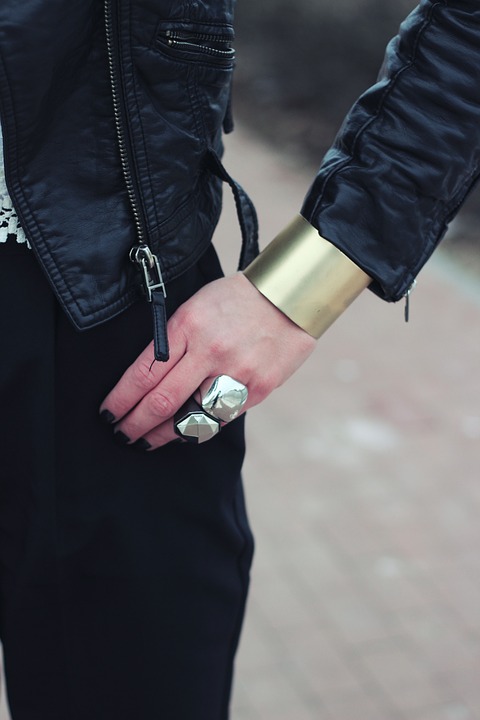 Retains Value
Of course, leather garments also hold their value, more so than garments made of other fabrics. So when you get ready to sell your leather jacket, you'll reap the benefits of a higher selling price. A used genuine leather jacket may sell for several hundred dollars, whereas a faux leather jacket — or jacket made of a different fabric/material — may sell for just a fraction of this amount. Rather than thinking about clothes as a disposable purchase, you can think of them as an investment, if you choose leather. This alone is reason enough to choose leather garments over other fabrics.
Wide Variety of Styles
In the past, leather was used in just a few basic garments, such as the traditional brown leather bomber jacket. But the times have changed, and fashion designers have since used leather in a wide range of apparel applications. You can find leather jackets available in all of the traditional colors and styles of the past, as well as newer and more modern colors and styles. There are even leather long coats which are characterized by a longer length.
Leather is Easy to Match
Do you struggle to coordinate your outfit? It's frustrating when you spend half an hour or longer staring at your closet wardrobe, unable to piece together a matching outfit. If this sounds like a familiar scenario, you should consider updating your wardrobe with leather garments. Leather is easy to match with other garments and accessories, as it goes well with just about any style or color.
These are just a few of the many reasons why leather garments are such as popular choice. From its versatility and ease of matching to its value retention and more, there are dozens of reasons to choose leather garments over other fabrics. To help make the most out of your leather garments, see below for some essential tips and tricks.
Leather Fashion Tips
Pay close attention to the color when choosing leather clothing. Black leather is often the preferred choice, as it's stylish, semi-formal, and easy to wear. But you'll find leather clothing available in other colors as well, including red, yellow, black, orange, and even blue. Consider when and how you'll be wearing the leather garment and choose the most appropriate color.
Consider the "fit" of a leather garment. Some leather garments have a tendency to hug close to the body, whereas others are more loose. There's really no single best type, as some people prefer tighter-fitted leather garments, whereas others prefer loose-fitted.
Contrary to what some people may believe, leather can be worn for both casual and formal occasions.
Feel free to experiment with different combinations of leather and non-leather apparel to see what works and what doesn't.
If you are going to wear a leather jacket, choose shoes in a matching color.
Don't forget to condition your leather garments on a regular basis, as this keeps them soft and supple while preventing them drying out.
Accessorize your outfit with leather garments. A leather belt, shoes and bracelet will compliment an existing leather outfit.