As the weather continues to get warmer, you may want to trade in your jeans and other full-length trousers for shorts. Shorts are more comfortable to wear during this time of year. They won't leave you feeling hot. Since they only extend partially down, shorts feel cooler than full-length trousers. Rather than buying just another pair of ordinary shorts, though, you should consider choosing leather shorts.
#1) Made of Real Leather
You can rest assured knowing that leather shorts are made of real leather. While some stores sell shorts — along with other garments — that are made of faux leather, all of the leather shorts sold here at LeatherCult are made of real leather. Our leather shorts are made of 100% real, premium leather.
You can even find leather shorts made of napa leather. Napa leather received its namesake from Napa, California where it was originally pioneered. It's used to make everything from leather jackets and belts to leather shorts, shirts and other garments. When made of napa leather, shorts have a super-soft texture that's gentle on the skin.
#2) Available in Cargo Styles
Leather shorts are available in cargo styles. Known as cargo leather shorts, they are characterized by deep pockets. Most leather shorts have pockets. You can usually find two pockets on the front and another two pockets on the back. Cargo leather shorts may feature this same pocket configuration as well. The difference is that cargo leather shorts have bigger, deeper pockets than traditional leather shorts.
With their deep pockets, cargo leather shorts are convenient. Many people prefer them over traditional shorts because they offer more pocket space. If you need to carry a lot of items, there's no better choice than cargo leather shorts. There are different types of cargo leather shorts. Some of them feature different styles or patterns than others. Nonetheless, all cargo leather shorts have deep pockets, thus allowing you to store and carry more items in them.
#3) Wear Year-Round
While leather shorts are commonly worn during the spring and summer months, leather shorts are suitable for all seasons of the year. You can wear them during the spring and summer months, and you can wear them during the fall and winter months.
Leather shorts can be worn year-round. If you're going to wear them during the latter part of the year, you may want to accessorize them with leggings. Many women wear leggings with shorts during the fall and winter months. Leggings will cover the rest of your legs so that they are fully protected from the cold weather. At the same time, you'll still be able to wear leather shorts to achieve a stylish appearance.
#4) Wrinkle Resistant
If you're tired of constantly ironing your shorts, you may want to choose a pair of leather shorts. Ironing is an effective way to remove wrinkles. When exposed to the heat and steam of an iron, garments will become smoother by releasing their wrinkles. Ironing, though, isn't necessary with leather shorts. Leather shorts are naturally wrinkle resistant, so you won't have to iron them.
Most other types of shorts are not wrinkle resistant. After folding a typical pair of shorts, they may develop wrinkles. You can usually de-wrinkle them with an iron. An easier solution, however, is to choose leather shorts. Leather isn't just a soft and supple material; it's naturally resistant to wrinkles. You don't have to worry about leather shorts developing unsightly wrinkles. As long as they are made of real leather, they'll offer a high level of protection against wrinkles.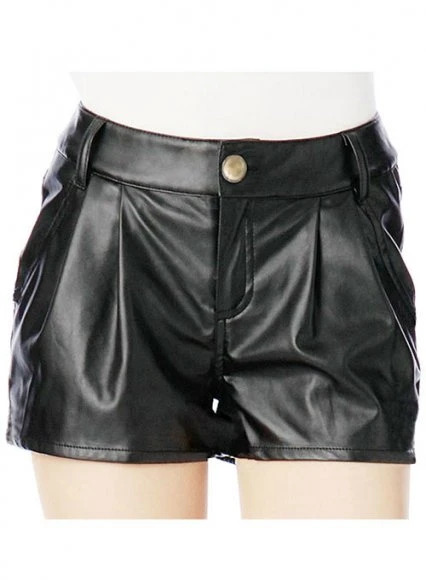 #5) Monochrome and Two-Tone Colors
Leather shorts are available in monochrome and two-tone colors. Monochrome, of course, refers to the use of a single color. Some monochrome leather shorts feature black, whereas others feature brown. Black and brown are two of the most popular colors for monochrome leather shorts. When in doubt, you may want to choose leather shorts in one of these two colors.
Two-tone leather shorts, on the other hand, feature two colors. They typically feature a primary color as well as a secondary color. The primary color is the main color that encompasses most of their design. The secondary color encompasses a smaller part of the leather shorts' design.
#6) Flat-Front and Pleated Styles
In addition to monochrome and two-tone colors, you can find leather shorts in flat-front and pleated styles. Flat-front styles refer to leather shorts with a smooth and flat front. Pleated styles, conversely, are those with a pleated front.
There are pleated trousers as well. If you've ever worn a pair of pleated trousers, you may recall seeing sections of folded fabric. Known as pleats, they run vertically down the front — and sometimes the back — of the trousers. Leather shorts are available with these same pleats. Pleated leather shorts have pleats. Aside from offering a unique appearance, pleats improve the flexibility of leather shorts. Pleated leather shorts will flex more easily when you sit and stand. As a result, some people prefer them over flat-front leather shorts. Regardless, you can choose from flat-front and pleated styles when shopping for leather shorts.
#7) Accessorize With a Belt
You can accessorize most leather shorts with a belt. Belts, of course, are worn around the waist. You can accessorize any pair of trousers or shorts with a belt as long as they have belt loops. While there are exceptions, most leather shorts have belt loops. For an added touch of style, you can run a belt through these loops, thereby accessorizing your leather shorts with a belt.
If you're going to wear a belt, though, you should choose the right type of belt. A leather belt will complement the appearance of your leather shorts. Nonetheless, you should choose a leather belt in the right color. You can either wear a leather belt in the same color as your shorts, or you can choose a leather belt in a different color. Just remember to choose a color that matches your leather shorts.