Not everyone who commutes in the United States uses a traditional car or truck; some prefer motorcycles. Of course, there are several perks to commuting via a motorcycle over a full-sized automobile. For starters, motorcycles are more fuel efficient. According to Alternative Fuels Data Center (AFDC), the average motorcycle gets approximately 43.5 miles per gallon, while cars get roughly 23 miles per gallon — that's nearly a 50% difference in fuel economy. Furthermore, motorcycles are more maneuverable, giving riders more freedom over where they park.
Whether you currently own a motorcycle or are thinking of buying one, you should update your wardrobe with the right "riding gear." You won't see many motorcycle riders wearing cotton t-shirts and cut-off shorts. Instead, they typically wear heavier and more appropriate clothing, including a jacket. Most motorcycle riders will agree that a high-quality jacket is the single most important piece of gear you can buy. Without a high-quality jacket, you'll be exposed to the elements when riding a motorcycle. So, how do you know which biker jacket is right for you? Here are 7 essential tips to help you find the perfect motorcycle riding jacket.
Avoid Windbreakers
While a popular choice of outwear for the fall season, windbreakers generally lack the protection needed when riding a motorcycle. After all, the defining characteristic of windbreakers is their lightweight construction, usually consisting of a synthetic material. There's nothing wrong with wearing a motorcycle jacket made of synthetic materials like polyester, but windbreakers are simply too thin. The thin construction of a windbreaker isn't going to keep you warm, not will it offer any notable level of protection in the event of an accident.
Choose Leather
There's a reason why leather is the preferred choice of material for motorcycle riding jackets: it's comfortable, warm and thick — something you won't find in jackets made of other materials. For more than half a century, leather jackets have been the de-facto standard material for biker jackets. Assuming it's made of genuine leather, it will protect the rider from the elements, offering an unmatched level of comfort and insulation from the cold. This is particularly important for men and women who ride in the late fall and winter months. Even if the temperature is still relatively mild, it will feel cooler when you ride due to the presence of wind chill. A high-quality leather jacket, however, will keep you warm and comfortable when riding your motorcycle on these chilly days.
Appropriate Size
In addition to choosing a leather biker jacket, you should also choose the right size. While choosing the right size jacket is always important, it's essential if you plan to wear the jacket when riding a motorcycle. If your jacket is too small, you may have trouble turning your motorcycle or otherwise moving your body. But if your jacket is too big, the excess fabric will hang from your body, potentially getting caught in your motorcycle. So, for both comfort and safety, choose a leather jacket that's designed to fit your body.
You can find the perfectly sized biker jacket here at LeatherCult. We offer custom sizing on all of our jackets at no additional charge. When ordering, simply include your body measurements, which we'll use to customize your leather biker jacket. There's no easier or faster way to find the perfectly sized jacket.
Quilted Interior
Granted, not every biker needs a leather jacket with a quilted interior; some prefer jackets without this soft interior lining. But if you plan on riding your motorcycle during the cold winter months, you should at least consider a quilted leather jacket. As the name suggests, quilted leather jackets are designed with a soft interior lining. The jacket itself is made of genuine leather. Inside the jacket, however, a soft quilted material like cotton or wool is added for increased comfort and warmth.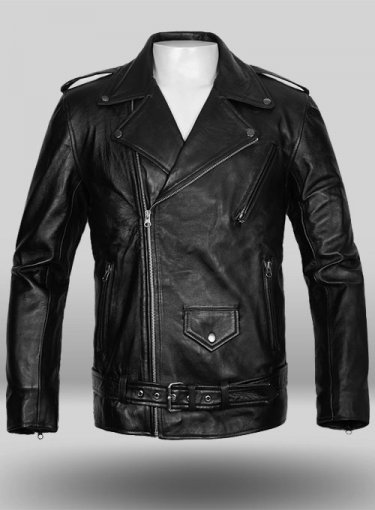 Consider the Quality of Leather from Which It Was Made
Think all leather jackets are made of the same quality leather materials? Think again. Some companies use cheap, low-quality leather, which is apparent from the first time you wear these jackets. They often feel rough, tough and are highly susceptible to damage. A high-quality leather jacket, on the other hand, feels soft, supple, smooth, yet still able to withstand the elements for countless years.  Napa sheep skin leather is arguably one of the highest quality types of leather on the market. It's made from genuine sheep skin that has been meticulously tanned and processed to achieve a superior level of construction when compared to cheaper, lower quality types of leather.
Check the Length
Different leather jackets feature different lengths. Mid-waist is generally the most common and popular length for leather jackets — and this is also the ideal length for most biker jackets. If your jacket extends beyond your waist, it can make motorcycle riding both difficult and uncomfortable. The extra fabric around the bottom of the jacket will "bunch up" in your lap, which isn't particularly comfortable when riding for long periods of time. For this reason and others, it's best to choose a mid-waist leather jacket for motorcycle riding.
Consider the Color
If you've spent any time shopping for leather biker jackets, you've probably noticed just how many different colors in which they come. In addition to traditional brown and black, you can find leather biker jackets available in blue, red, green, yellow and pretty much any other color. With so many different colors, you may struggle to choose one for your biker jacket. To make the process a little easier, though, you can take a look at your motorcycle and other riding gear. IF your motorcycle is black — and you have other black riding gear — it's probably best to stick with a similar black-colored leather biker jacket. This helps to create a more balanced appearance in which everything flows together naturally.