Leather belts are worn with a variety of pants, trousers, dresses and other garments. As you may know, they are worn around the waist — typically through a series of multiple loops — to secure the garment to your body. With that said, a leather belt can also enhance your outfit by adding new colors and patterns. But if you're going to accessorize your outfit with a leather belt, there are a few things you need to know. In this post, you'll learn several things to look for when choosing a leather belt.
Stick With a Cohesive Color for All Leather
A good rule of thumb to follow is to choose a leather belt in the same color as the other leather garments, as well as accessories, with which you intend to wear it. What does this mean exactly? Assuming the only leather item you wear is a belt, you can choose a leather belt in any color. But if you're going to wear a leather belt with leather shoes or a leather jacket, you should choose a belt in the same color as your shoes or jacket.
Make Sure It Fits
A leather belt isn't going to offer much value unless it fits around your waist. After all, that's the whole point of wearing a belt — to define your waistline while securing your pants or trousers in place. If you choose a leather belt that's too small for your waist, you won't be able to wear it; it's just that simple. If you choose an oversized leather belt, on the other hand, it may look awkward when worn.
You can determine whether a leather belt will fit by checking its size. Most belts use straightforward waist measurements to dictate their size. Rather than "small," "medium" and "large," for instance, belts are sold in a range of measurements, such as 28 to 32 inches and 32 to 36 inches.
Alternatively, some belts feature a single fixed measurement, such as 34 inches. If a belt has a single, fixed measurement, it usually refers to the total length of the belt, excluding its buckle. Regardless, you should choose a leather belt in a length that's appropriate for your body. Using a tape measure, you should be able to identify the appropriate size for your waist.
Choose a Solid Belt for Dresses
While belts are typically worn with jeans, khakis, chinos and other types of traditional pants, some women prefer wearing them with dresses. A belt, of course, won't necessarily secure your dress in place. It will, however, help define your waistline to create a more attractive outfit.
When choosing a leather belt to wear with a dress, consider going with a solid belt. Solid leather belts are characterized by a solid construction, meaning they don't have dozens of small holes as found in traditional belts. The Obi Leather Belt is the perfect example of a high-quality solid leather belt. Available for sale here at LeatherCult, it's the perfect choice when wearing a dress. Without holes, the Obi Leather Belt offers a more modern and attractive style than traditional leather belts.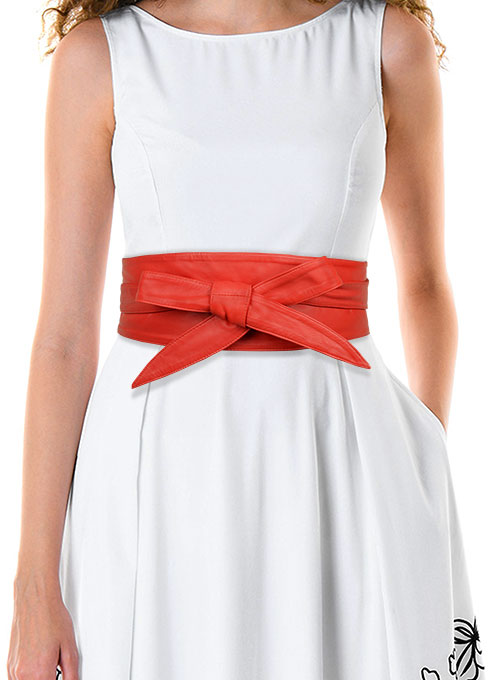 Choose a Genuine Leather Belt
Whether you prefer a traditional style or a more modern "solid" style like previously mentioned, it's recommended that you choose a leather belt made of 100% genuine leather. Not all leather belts are made of real leather. Some are made of eco leather or faux leather. Belts made of these alternative materials typically cost less than those made of genuine leather, but if you're looking to achieve the best possible look, as well as comfort, you should invest in a genuine leather belt.
Genuine leather belts offer an unparalleled level of aesthetics. They have a natural grain that's not found in eco or faux leather belts. More importantly, genuine leather belts are softer and, therefore more comfortable, than eco and faux leather belts. So, while you may have to spend a few extra bucks, a genuine leather belt can pay off in the long run.
Check the Buckle
When shopping for a leather belt, check the buckle to ensure it's made of high-quality materials. The buckle, of course, is the part of the belt that's used to fasten the two ends together. It typically consists of a flat and solid material, with the clasping mechanism hidden behind. Unfortunately, some belts feature low-quality buckles that are susceptible to age-related degradation.
Over time, a low-quality belt buckle may fade or even chip. When this occurs, it's nearly impossible to repair the buckle. You might be able to replace the buckle — depending on the type of leather belt you own — but you probably won't be able to repair it. Therefore, you should choose a leather belt featuring a high-quality buckle made of strong and durable materials.
Consider the Width
While it's important to choose a leather belt in an appropriate length — otherwise it won't fit around your waist — it's equally important to choose an appropriate width. The width of a leather belt refers to the distance from the bottom of the belt to the top. Most leather belts are just a 3 or 4 inches wide, but this doesn't apply to all leather belts.
How wide should your leather belt be? Assuming you're wearing it with a dress, you may want to choose a relatively wide leather belt to achieve a more attractive appearance. But if you're wearing it with jeans or other traditional trousers, a standard 3- to 4-inch width should suffice.
The Bottom Line on Choosing a Leather Belt
Don't assume that all leather belts are made equal. Just because two belts are made of the same leather material, they may not necessarily be the same. By following the tips outlined here, however, you can find the perfect leather belt that offers countless years of use and enjoyment.