Do you regularly wear leather in your outfits? From jackets and vests to shorts, dresses and more, leather is used in a variety of garments. It's a soft yet durable material that outperforms many traditional textiles. Best of all, you can accessorize leather garments with accessories made of this same material. There are plenty of leather fashion accessories. By choosing the right leather fashion accessories, you can create stylish outfits that give you greater confidence.
Match the Color
You should choose leather fashion accessories in a similar color as that of your leather garments. Leather accessories are available in different colors. Brown is the most common color in which they are made. More leather accessories — as well as leather garments — feature brown than any other color. With that said, you can find them in other colors.
Leather is often dyed during production. Manufacturers can change the color of leather by dyeing it. They can also change the color of leather by applying a surface-binding pigment. The surface-binding pigment will soak into the surface of leather while subsequently changing its color. When shopping for leather accessories, you should choose a color that's similar to that of the leather garments with which you intended to wear them.
Accessories With a Belt
Leather belts are a popular accessory. You can't go wrong when accessorizing an outfit with a leather belt. Leather belts are strong, semi-flexible, long-lasting and stylish. You may be able to save money by choosing a belt made of a different material, but it probably won't last as long. Over time, a leather belt will prove to be a smart investment because it will offer many consecutive years of use.
While most belts are, in fact, made of leather, not all of them are the same. There are many different types of leather belts. If you're looking to buy a new leather belt, you'll need to choose the right type.
Here are some things to consider when choosing a leather belt:
Buckle style
Length
Width
Color
Overall style
Avoid Faux Leather
Like leather garments, leather accessories are available in real leather and faux leather. Real leather consists of animal hide that's been tanned and processed. Faux leather, on the other hand, is a synthetic material. Faux leather isn't made of animal hide, nor is it tanned or processed. Instead, it consists of base material that's covered in a polymer or plastic layer.
Accessories made of faux leather fall short of their real leather counterparts. When made of faux leather, accessories typically feature a smooth surface. Why is this a problem? The smooth surface associated with faux leather looks and feels fake. Real leather is smooth as well, but it has a natural grain. Faux leather doesn't have this same grain. Furthermore, some types of faux leather have a chemical-like odor. If you're going to invest in leather accessories, you should avoid faux leather. Stick with accessories made of real leather, instead.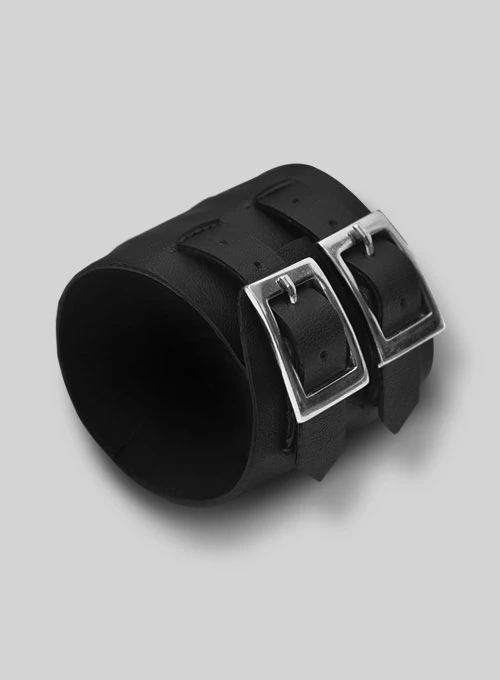 Wear a Leather Wristband
If you want to make a fashion statement, you should consider wearing a leather wristband. It will complement the appearance of other leather garments while adding new colors and textures to your outfit. A leather wristband, of course, is a band made of leather that's worn around the wrist.
Many wristwatches have a built-in leather wristband. But you don't have to wear a wristwatch to include this stylish accessory in your outfits; you can invest in a leather wristband.
Available for sale here at LeatherCult, the Elvis Leather Wristband is a replica of the same leather wristband worn by the King of Rock. Throughout his decade-long career, Elvis Presley often wore a leather wristband. Whether you're a fan of the King of Rock or not, you can project a similar style in your outfits by wearing the Elvis Leather Wristband.
Touch Up Suits With a Leather Pocket Square
There's a special type of leather accessory that's designed exclusively for use with a suit: leather pocket squares. Leather pocket squares are pieces of leather that you can fold and place inside of the breast pocket of your suit jacket. Most suit jackets have at least one breast pocket. Rather than leaving it empty, you can accessorize it with a leather pocket square.
A leather pocket square will add color to your suit jacket. Contrary to common belief, you shouldn't wear a pocket square in the same color as your suit jacket. If your suit jacket and pocket square are the exact same color, they'll blend together — and not in a good way. A better option is to choose a leather pocket square in a slightly different tone. You can choose a leather pocket square that's lighter or darker than your suit jacket, for instance. As long as it's a slightly different tone, your leather pocket square will stand out while enhancing the appearance of your suit.
Maintaining Leather Accessories: What You Should Know
Whether you choose a leather belt, wristband, pocket square or any other leather accessories, you'll need to maintain them. Nearly all leather accessories require at least some maintenance. Failure to maintain them will shorten their life while exposing them to premature wear and tear.
How do you maintain leather accessories exactly? For starters, you should keep them clean. Leather accessories can accumulate dirt and debris. If not cleaned in a timely manner, superficial dirt and debris may turn into permanent stains. You can clean most leather accessories by using a damp washcloth and some gentle dish soap.
You should also try to keep your leather accessories dry. There's nothing wrong with cleaning them with a damp washcloth, but you shouldn't leave your leather accessories soaked for a prolonged period. When exposed to water for an extended length of time, accessories made of leather may succumb to mildew. Keeping them dry will protect them from mildew and associated mildew stains.