Jackets aren't the only type of garment made of leather. This versatile textile is used to make a wide range of clothes and accessories, including pants, vests and even shirts. Granted, most people have never worn a leather shirt, but that doesn't necessarily mean it's a poor choice. On the contrary, leather shirts offer the same attractive qualities as traditional leather jackets, only in the form of a shirt. If you're still skeptical, keep reading to learn why everyone should be wearing leather shirts. In this post, we're going to explore some of the top benefits of leather shirts, as well as how to wear them.
Soft and Ultra Comfortable
We can't talk about the benefits of leather shirts without mentioning their soft and ultra-comfortable texture. Leather shirts are made of the same high-quality leather as traditional jackets. Depending on the specific brand, this may consist of Napa sheep skin leather, which is among the most prized types of leather on the planet. It's soft, supple and feels amazing against your skin. When used to make shirts, Napa sheep skin leather is guaranteed to offer an unmatched level of comfort. So, if you're tired of wearing rough shirts that cause itching or irritation, try wearing a leather shirt. Who knows, this could replace the cotton shirts in your wardrobe one day.
Moisture-Wicking
Leather shirts are also moisture-wicking, meaning they repel moisture rather than absorb it. This is particularly important for individuals who are highly active. Whether you are working, running or engaging in other physical activity, your body will probably respond by sweating. And when you sweat, this moisture may absorb into cotton clothes; thus, causing skin chafing. A simple solution to this problem is to wear a leather shirt. Because of its natural moisture-wicking properties,
Strong and Durable
Of course, leather shirts are also strong and durable. With traditional cotton shirts, there's always a risk of the fabric being torn, ripped or otherwise damage. If you get it caught in the car door, for instance, the delicate cotton fabric may tear, resulting in serious damage to the shirt.  While leather shirts aren't immune to such damage, it's less likely to happen to them. This is because leather is naturally stronger and more durable than cotton. The next time you visit a retail apparel store, perform a test by feeling cotton and leather side by side. You can hold a cotton shirt in one hand and a leather shirt or jacket in another. When doing so, you should notice that leather is significantly thicker and more durable. These properties give it a higher level of protection from damage. Again, leather shirts can still become damage, but this shouldn't happen as long as you properly care for your shirt.
Unique Style
Let's face it, most people don't wear leather shirts — and that's one of the great things about them. Creating a stylish appearance is all about being unique. If you follow in the footsteps of everyone else, you'll blend into the crowd without creating any true sense of style. To prevent this from happening, consider wearing a leather shirt. Whether it's a single or multi colored, leather shirts are truly unique. They offer a classic, timeless style that differs from modern trends. As such, men and women of all ages can enhance their appearance by sporting a leather shirt.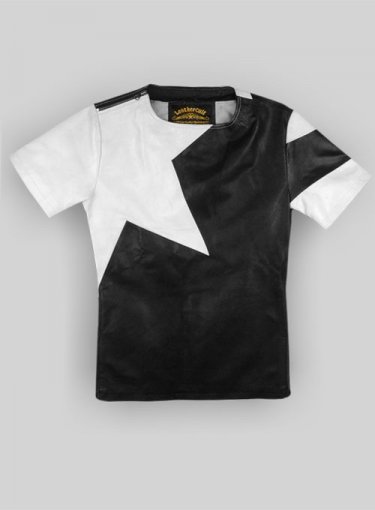 Choosing a Leather Shirt: Where Do I Start?
Now that you know the benefits of wearing a leather shirt, you might be wondering how to choose one. Well, you should first determine the type of leather shirt that you want. The photo above, for instance, depicts a classic leather shirt with a black-and-white star design. It's simple yet still somewhat bold and unique. This is just one of many leather shirt designs from which to choose, however. Feel free to browse through a variety of designs to find the one that best matches your personal style.
The Color
You should also consider the shirt's color. Some people assume that leather shirts are only available in brown. After all, brown is the de-facto color in which leather jackets are made, so it only makes sense for leather shirts to feature brown as well. While leather shirts are available in brown, they are also available in black, white, red, green, blue, yellow and countless other colors. You can even find leather shirts feature two or more color combinations. Ultimately, you should choose a color that's easy to match with your existing clothes and accessories. If you normally wear black shoes, for instance, a black leather shirt is a good choice. Alternatively, if you wear brown shoes with brown accessories, stick with a brown leather shirt.
Skip the Undershirt
Normally, an undershirt is a beneficial addition to an outfit. When wearing a leather shirt, however, it's best to skip the undershirt. Wearing an undershirt with a leather shirt creates an awkward appearance due to the contrasting textures. Assuming your undershirt is made of cotton, that means you'll be wearing a leather shirt over a cotton shirt. This leather on cotton doesn't exactly compliment your appearance, which is why it's best to skip the undershirt. Besides, wearing an undershirt means that you won't feel the soft and supple texture of leather against your body.
Layer it With a Jacket
If you really want to go the extra mile with your leather shirt, try layering it with a leather jacket. There's no such thing as having too much leather in your outfit. In fact, leather compliments itself naturally, so wearing a leather jacket and shirt will only improve your appearance. Just remember to choose a color that flows cohesively with your shirt. If your leather jacket clashes with your shirt, you should avoid wearing the two garments together.
As you can see, leather shirts offer countless benefits, ranging from comfort and style to durability and strength.