Regardless of your taste for fashion, you really can't go wrong with a leather waist coat. This stylish garment offers the traditional look of a vest but with the high-quality feeling of genuine leather. While waist coats are available in countless different fabrics, leather is the preferred choice among many men and women, and for good reason: it's soft, comfortable, luxurious, easy to maintain, durable, and it looks great. But if you're thinking about buying a leather waist coat, there are a few things you should consider.
Single-Breasted or Double-Breasted
Do you want a single-breasted or double-breasted leather waist coat? Much like suit jackets and coats are available in both single-breasted and double-breasted styles, so are leather waist coats. A single-breasted waist coat features a single column of buttons as well as a narrow overlap of fabric. In comparison, a double-breasted waist coat features two columns of buttons and with a much wider overlap of fabric. You'll also notice that single-breasted leather waist coats generally have fewer buttons than their double-breasted counterpart. Either way, this is something you'll need to consider when shopping for a leather waist coat.
Genuine or Faux Leather
Something else to consider is whether to choose genuine or fake/faux leather. While the latter typically costs less, this is one instance in which the saying "you get what you pay for" holds true. Rather than trying to save a couple bucks by purchasing a faux leather waist coat, it's recommended that you choose genuine leather. Faux leather lacks the attractive characteristics and qualities that make genuine leather such a prized material. Furthermore, faux leather often has a chemical smell, whereas genuine leather has a naturally soft and pleasing smell. The bottom line is that you should steer clear of faux leather waist coat and instead choose a genuine leather waist coat.
Custom Sizing
You have one of two options when shopping for a leather waist coat: you can roll the dice and hope you find the correct size at a retail store, or you can order a custom-sized leather waist coat online. Not surprisingly, most people prefer the latter option, as it ensures the waist coat fits your body perfectly. If you order from the leather experts here at LeatherCult, for instance, you can specify your own measurements when checking out. We'll use these measurements to customize the size of your leather waist coat. As such, you'll receive a leather waist coat that fits your body perfectly. There's no need to visit half a dozen retail stores in hopes that you find the right size. As long as you give the correct measurements when ordering, you'll receive the right size.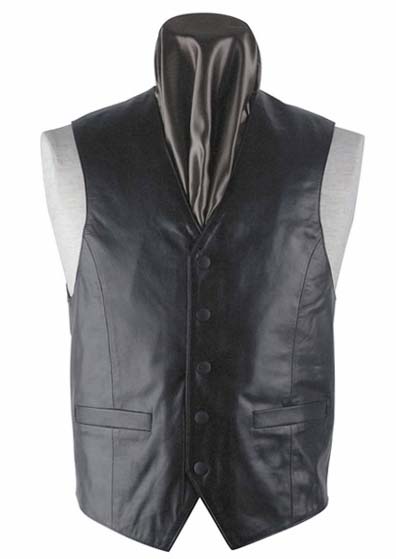 Color
Think all leather waist coats are made in the traditional tan/brown leather color? Think again. While it's true that tan/brown is the most popular color for leather waist coats — and other leather garments — you can find them in many more colors. Brown is an all-around great choice, especially if you wear brown shoes and a brown belt on a daily basis. If you wear different-colored shoes and/or accessories, however, you may want a different color waist coat. An alternative to brown, for instance, is black, which is a much better option for outfits featuring black shoes and accessories. Other colors to consider for your leather waist coat include red, green, yellow, blue, orange and variations thereof. Feel free to experiment with some of these bold colors to see what works and what doesn't.
Hooded or Non-Hooded
Do you want a hooded or non-hooded leather jacket? Most leather waist coats are non-hooded, but there are a few select styles that feature built-in hoods. Hooded leather waist coats are prized for their exceptional level of comfort and unique style. When the temperatures drop, something as simple as a hood can help by keeping you warm. Hooded leather waist coats are also ideal for those rainy days, as it keeps your head dry. On the other hand, though, some people prefer the traditional look and style of a non-hooded leather waist coat. This is ultimately a personal decision that only you can make.
Type of Leather
Don't assume that all leather waist coats are made of the same quality leather. Even if two leather waist coats are made with genuine leather, one could be higher quality than the other. This is especially true when speaking about waist coats made of Napa sheep leather, which is considered the highest quality leather. Always check to see what type of leather a waist coat is made of before buying it.
Zip Up or Button Up
There are dozens of ways in which leather waist coats are designed, though most feature either a zip up or button up front. So, which of these styles is right for? There are subtle nuances in regards to style and function between these two that shouldn't go unnoticed. It's generally easier, for instance, to zip up a leather waist coat instead of buttoning it. With that said, buttons provide a unique style that many people prefer.
Pockets
Does the leather waist coat feature pockets? If so, how many pockets does it have, and where are those pockets located? Some leather waist coats are pocketless, whereas others have several pockets. If you typically carry around a lot of small items, you'll probably want to choose a style with pockets (for obvious reasons).
Thickness
Don't forget to consider the thickness when choosing a leather waist coat. Some waist coats are thin; others are thick; and some fall in the middle. You might be wondering why anyone would want a thin leather waist coat. Well, for starters it's ideal for warm weather. An excessively thick leather waist coat is perfect the winter and late fall months, but it's not exactly the best choice for summer. Think about when and how you'll be wearing your new leather waist coat and choose a thickness that's appropriate for the climate.