Not all leather jackets are "typical" length. While many stop around the waist (standard length), others extend to the knees or past. The latter, known as leather long coats, have become a popular choice among men and women alike. They offer the same classic style as traditional leather coats, but with a unique touch that's simply not found elsewhere. If you're thinking of investing in a leather long coat, though, there are a few things you should know. So, keep reading to learn more about leather long coats and how to choose the right one.
Looking Back at the History of Long Coats
Long coats have been around for hundreds of years, with reports indicating that some of the first styles originated during the 16th century. At this time, coats, jackets and gowns extending to the knees and below were worn to establish social status, or for military uniform purposes. It wasn't until the 17th century, however, when long coats became available to all social classes. This sparked a newfound trend for the garment, with people of all ages and social statuses seeking to wear them. Even today, the long coat remains a popular choice of outwear, for both comfort and style.
Long Coat vs Top Coat: What's the Difference?
Although they share some similarities, long coats and top coats are two different garments. Top coats are typically made of a lighter fabric or material, while long coats are made with a heavier fabric (e.g. leather). This makes long coats the preferred choice for the otherwise cold winter months. If you plan on wearing it for protection from the cold weather, it's best to stick with a long coat. Top coats can still be worn during the winter (or any season for that matter), but they won't offer the same warmth and comfort as their long coat counterpart.
Of course, there are plenty of other reasons to choose a long coat over other forms of outerwear, some of which include the following:
Long coats are easy to match, thanks in part to their large size and subsequent ability to conceal the wearer's attire.
You can find long coats available in countless colors and color combinations. Whether you want a traditional single-color style or a multi-color style, there's a long coat out there with your name on it.
You can wear a long coat for either casual or formal occasions. The "formality" of a long coat varies depending on how it's worn. If you're wearing one for a formal occasion, you should pair it with formal shoes and accessories. For casual occasions, you should wear a long coat with casual shoes and accessories. Following this rule will go a long ways in enhancing your appearance and maintaining an appropriate look for the occasion.
Long coats are available in many different fabrics, only one of which is leather.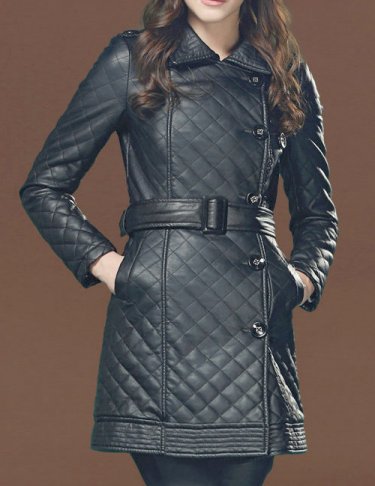 Why Leather?
Now that you know a little bit about long coats, you might be wondering why leather is such a popular fabric for this application. Well, leather is unique in the sense that it's made from animal hide, whereas synthetic fabrics and materials are man-made. Because of its natural origins, leather has unique properties that make it stand out from the rest. Among other things, leather is strong, durable, resistant to stains, soft, supple, and ultra comfortable to wear. All of these characteristics make it an ideal material for use in the construction of long coats. Don't take my word for it, though. Pick up a leather long coat today to see why it's the "go to" choice of winter outerwear for so many people.
Leather also retains its value more so than other fabrics and materials. This means your leather long coat will be worth more than jacket or coat made of some cheap synthetic material. This is just one more reason why it's a smart investment to buy a leather long coat.
Quilted vs Non-Quilted Leather Long Coats
When choosing a leather long coat, you should consider whether or not the interior is quilted. Assuming you purchase it here from LeatherCult, you'll have the option to add quilting to your leather long coat. Why is this a good idea? Well, quilting creates a comfortable padding of insulation inside the jacket, further protecting you from the cold weather. You can see an example of a quilted leather long coat above, which featured a black coat with quilted padding. It's a simple yet stunning design that's perfect for fashion-forward women.
Color
Something else to consider when choosing a leather long coat is the color. This will have a significant effect on when and how you can wear the leather long coat, so it's important to choose the right color. Black is always an excellent choice, as it's easy to match with other colors and styles — and besides, black looks great on just about anyone. Brown is another popular color for leather long coats. So, which color should you choose? It really depends on your personal style and the other garments and accessories that you'll be wearing with it. Remember, black and brown don't go together, so you shouldn't attempt to wear a brown leather long coat with a pair of black shoes.
If you're going to buy a leather long coat, though, it's important to follow some simple steps to maintain it. This includes reading, and following, the advice listed on the care label. The manufacturer should include a care label in the leather long coat, which is typically located inside the neckline. This label reveals the best way to clean and care for the leather long coat without damaging it. For instance, many leather long coats should be spot treated to remove stains. If you accidentally spill your coffee on it, try to remove the stain by blotting it with a clean washcloth or towel. You should refer to your coat's care label for specific instructions on how to clean and care for it.