Leather cargo pants have become a popular alternative to traditional leather pants. They are available in the same types of leather as traditional leather pants, such as napa leather. Leather cargo pants simply feature cargo pockets. You can find the cargo pockets on the sides of leather cargo pants. All leather cargo pants feature these extra pockets on the side. Here are 10 important things to look for when shopping for leather cargo pants.
#1) High-Quality Fasteners
You should look for high-quality fasteners in leather cargo pants. Fasteners are used to hold parts of a garment together. Regardless of the style, all leather cargo pants have fasteners like zippers, buttons and rivets. The quality of these fasteners, though, may vary. Some leather cargo pants feature low-quality fasteners made of plastic or other cheap materials. Other leather cargo pants feature high-quality fasteners made of antique silver or metal.
#2) Real Leather Construction
Don't underestimate the importance of a real leather construction. All leather cargo pants are made of leather. That's essentially what distinguishes them from other types of cargo pants. But you can find leather cargo pants made of faux leather and real leather. Faux leather is artificial leather. It doesn't feature the same soft and supple texture as real leather. If you're going to invest in a pair of leather cargo pants, you should look for a real leather construction. Otherwise, you won't get the full experience with them.
#3) Versatile Style
Something else to look for in leather cargo pants is a versatile style. Versatile styles are those that can be worn in many different outfits. Some styles are restrictive, meaning you can only wear them in a few outfits. Versatile styles are different in the sense that you can wear them in countless different outfits.
Examples of versatile styles in which leather cargo pants are made include the following:
Laced leather cargo pants
Two-tone leather cargo pants
Leather trooper cargo pants
Leather legacy cargo pants
Leather cargo jean pants
Suede leather cargo pants
#4) The Right Size
You can't ignore the size when choosing leather cargo pants. Like most other types of pants, leather cargo pants are available in a variety of sizes. You can find them in different waist, as well as length, sizes. For a comfortable and flattering fit, you need to choose the right size. If they are too big or too small, you probably won't wear the leather cargo pants very often. Fortunately, finding the perfect size has never been easier.
Here at LeatherCult, you can choose custom sizing when ordering leather cargo pants. We'll use your provided body measurements to create a pair of custom-sized leather cargo pants specifically for you.
#5) Plenty of Pocket Space
You should choose a pair of leather cargo pants with plenty of pocket space. Leather cargo pants typically feature the same two front and two back pockets as most other pants. In addition to these standard pockets, however, they feature cargo pockets. Cargo pockets are large side pockets. You can use them to store small items.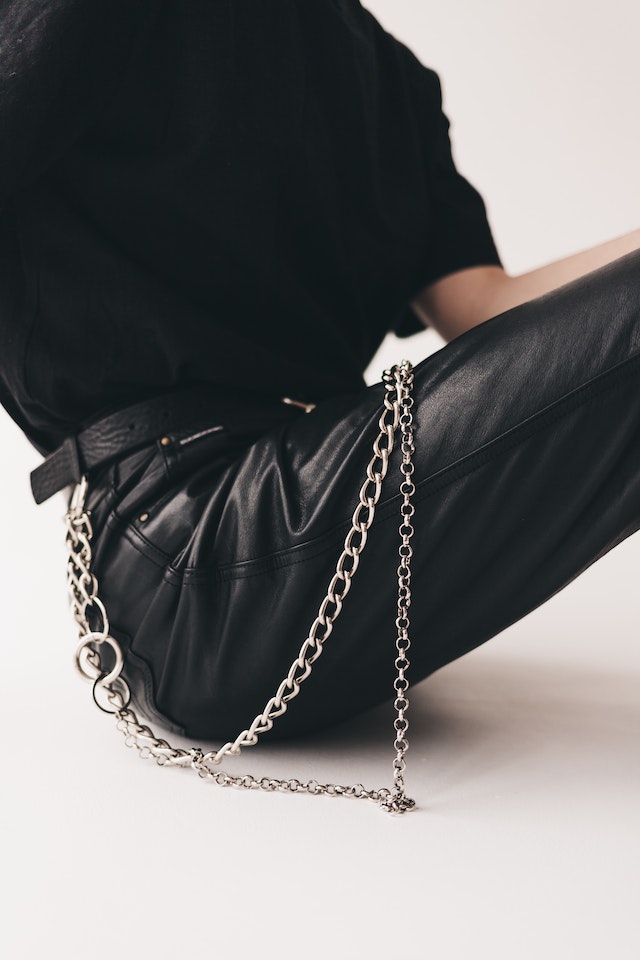 #6) Universal Leather Color
Leather cargo pants are available in different colors. Even when made of real leather, they are typically dyed during production. Manufacturers dye the leather to achieve various colors. When shopping for a pair of leather cargo pants, you should look for a universal leather color. Universal colors are those that match most other colors. Some of the most popular universal leather colors include black, brown, beige, green, burgundy and shades thereof. You can't go wrong with any of these universal colors.
#7) Warmth
Depending on when you intend to wear them, you may want to choose a pair of warm, insulative leather cargo pants. Many people wear leather cargo pants during the fall and winter seasons when it's cold outside. Leather is a naturally warm textile. It offers greater protection against the cold weather than traditional textiles like cotton and linen. But some leather cargo pants are designed to offer even greater protection against the cold weather than others.
There are leather cargo pants with quilted lining, for instance. The quilted lining will trap more of your body heat so that you stay warm — even when the weather is cold outside.
#8) Hand-Made Construction
The way in which a pair of leather cargo jeans is constructed speaks volumes about its quality. Some leather cargo pants are mass-produced in factors. There are factories with industrial machines that churn out countless pairs of leather cargo pants per day. Other leather cargo pants are hand-made. They almost always feature greater attention to detail and higher overall quality. You may have to pay more for a pair of hand-made leather cargo pants, but it's a smart investment that's guaranteed to pay off in the long run.
#9) New
If you're going to buy a pair of leather cargo pants, don't make the mistake of choosing secondhand pants. Instead, buy a pair of new leather cargo pants. Some stores sell secondhand leather cargo pants. Secondhand means they are used. They are previously owned leather cargo pants that, like other previously owned garments, may show signs of wear and tear. Rather than taking this risk, you should opt for new leather cargo pants.
New leather cargo pants haven't been owned or otherwise worn, so you can rest assured knowing that they feature a pristine appearance. All of the leather cargo pants sold here at LeatherCult are new. Best of all, you can order them in custom sizes to achieve the perfect fit.
#10) Belt Loops
You should look for belt loops in leather cargo pants. With belt loops, you'll have the option of accessorizing them with a belt. Belt loops consist of looped pieces of material — typically leather — around the waistband. Accessorizing your leather cargo pants with a belt will inject new color into your outfit. But you can only accessorize them with a belt if they feature belt loops.