With the average person owning over a half-dozen pairs, jeans are the world's most popular type of pants. Consisting of a denim construction, they are comfortable, stylish and long lasting. If you own a leather jacket, you can wear it with jeans. For the best possible look, though, consider the following 10 tips on how to wear a leather jacket with jeans.

#1) Don't Mix Brown and Black

While jeans match most traditional colors in which leather jackets are made, there are a few exceptions. If your jeans are black, for example, you shouldn't wear them with a brown leather jacket. Instead, choose jeans in an alternative color that matches or compliments brown, such as light blue or indigo blue.

#2) Choose High-Quality Jeans

If you're going to wear jeans with a leather jacket, make sure they are high-quality jeans. Low-quality jeans are made of cheap denim — or other low cheap fabrics — so they don't offer the same level of style or comfort as their high-quality counterparts. You'll have to pay more for a pair of high-quality jeans, but it's a smart investment that will allow you to put together better-looking outfits.

#3) Consider the Cut
You can wear a leather jacket with jeans in just about any cut, but some cuts are more stylish than others. Skinny and straight-leg cuts have become a popular choice because of their naturally slimming appearance. They feature a narrower opening in the legs than other cuts, which subsequently makes you look slimmer and even taller. When choosing a pair of jeans to wear with a leather jacket, consider the cut and how it will affect your overall appearance.
Here are some of the popular cuts in which jeans are made:
Straight leg
Skinny
Boot cut
Relaxed
Loose fit
Baggy
Low rise
High rise
Baggy
Boyfriend
Flared
Distressed
#4) Go With Genuine Leather
There's no substitution for genuine leather when choosing a leather jacket. Whether it's made of cowhide, sheepskin or other types of animal hide, it will offer an unparalleled level of comfort and style — more so than other fabrics and materials. As a result, wearing a genuine leather will enhance the appearance of your jeans. But don't assume that all leather jackets are made of genuine leather. Some stores sell faux or fake leather jackets, which are actually made of a synthetic material instead of real leather.

#5) When In Doubt, Choose Dark Colors
If you're struggling to create an attractive outfit with jeans and a leather jacket, consider wearing all dark colors. A pair of indigo jeans with a black leather jacket is a classic combination that looks great no matter how it's worn. Being that indigo and black are both dark colors, they naturally compliment each other to create a cohesive outfit. Light colors are fine to wear as well, but you'll need to choose them carefully to ensure they don't clash with other.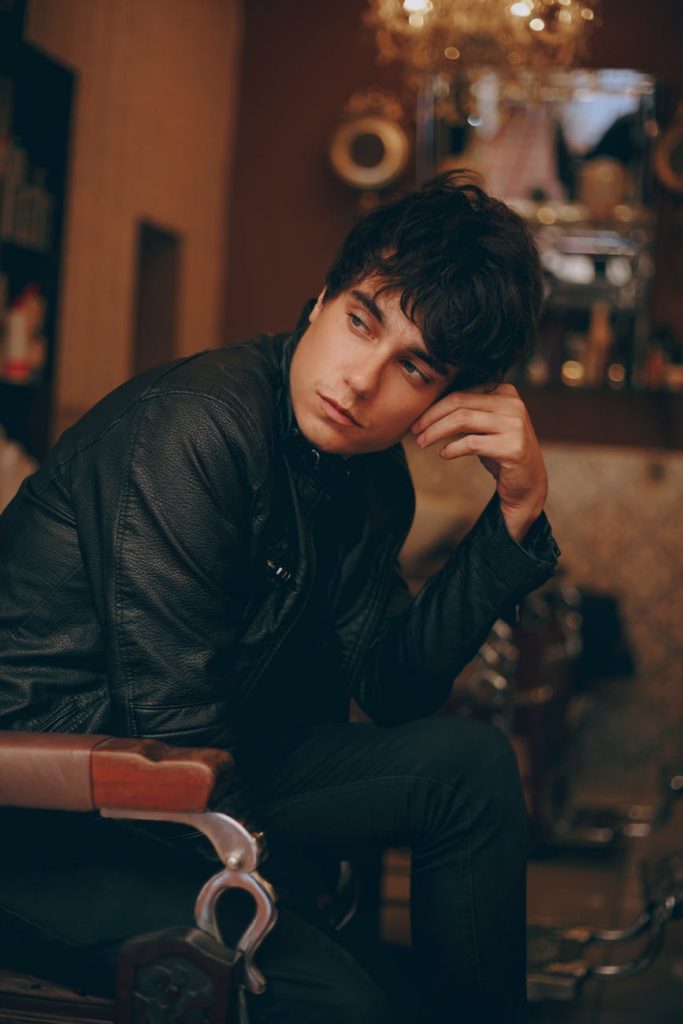 #6) Clean and Condition Your Leather Jacket
Assuming you have a genuine leather jacket, you'll need to clean and condition it on a regular basis. If you don't, it may look dirty and unattractive, in which case it won't benefit the appearance of your denim jeans. You can clean your leather jacket using a small amount of detergent and water. To condition your leather jacket, apply a leather conditioner like saddle soap. By cleaning and conditioning your leather jacket, it will look better and last longer, allowing you to create picture-perfect outfits with your favorite pair of denim jeans.

#7) Don't Forget to Maintain Your Jeans As Well
Caring for your leather jacket is important, but you shouldn't overlook your jeans as well. Denim is a more rugged material than leather, so you don't have to clean your jeans as frequently as your leather jacket. When dirty, though, it's recommended that you wash your jeans to preserve their original appearance. When neglected, dirt will settle deep inside the denim fabric of your jeans, causing permanent stains that are nearly impossible to remove.
#8) Choose Selvedge Denim for a Unique Style
If you're trying to create a unique style that's different from the mainstream crowd, consider wearing selvedge denim jeans with your leather jacket. Selvedge denim jeans are characterized by a unique design in which a few inches at the bottom of each pant leg are hemmed. It's a subtle design nuance that has a big impact on the appearance of the jeans. With the bottom hemmed, selvedge jeans look cleaner and more stylish than traditional jeans. As a result, they look great when worn with a genuine leather jacket.

#9) Make Sure Your Jeans and Leather Jacket Fit
Both your jeans as well your leather jacket should fit properly. If either of these garments are too big or too small, they'll create an awkward-looking outfit. You may already own a pair of fitted jeans, but how do you find a leather jacket that fits right? Using our online store, you can purchase a leather jacket in a custom sized to fit your body. LeatherCult is one of the industry's top sellers of high-end leather jackets. When you place an order, you can specify your own body measurements, which we'll use to customize the size of your leather jacket.

#10) Wear the Right Shoes (or Boots)
Don't forget to wear the right shoes or boots with your jeans and leather jacket. There's no single best type of footwear for this outfit. Rather, it varies depending on your personal preference and what you are trying to achieve. If you're trying to create a semi-formal outfit, for example, you may want to wear Oxfords or boots. But if you're simply creating a casual outfit, you may want to wear a pair of matching sneakers or tennis shoes.
You can wear your leather jacket with other types of pants, but wearing them with jeans offers a classic style that many people prefer. When wearing these two garments together, though, you should follow these tips to create the perfect outfit.