If you enjoy the look and feel of leather, you should consider investing in a pair of leather pants. Featuring the same high-quality leather materials used to make jackets, they're the perfect alternative to jeans and other traditional pants. Assuming this is your first time owning a pair, though, you might be wondering how to wear them. While there are countless ways to rock a pair of leather pants, we're going to reveal 10 simple solutions that work great for everyone.
10 simple solutions:
#1) Choose Slim Fit
Baggy jeans are perfectly fine; many people actually prefer to wear jeans in a size or two bigger than what they actually need. But you should stick with a slim-fit style for leather pants. Slim-fit leather pants contour to the shape of your legs to create a slimmer figure. They shouldn't necessarily feel tight or constricting, but your leather pants should fit directly against your skin.
#2) Wear With a Denim Jacket
Who says you can't wear denim and leather together in the same outfit? It's perfectly fine to wear garments made of both materials, and doing so can help you achieve a more stylish, well-defined appearance. When wearing leather pants, consider wearing a denim jacket. This simple combination is warm, comfortable and uniquely stylish, making it ideal for the otherwise cool fall and winter months.
#3) Wear Boots or Heels
To take advantage of the slimming effects of leather pants, try wearing boots or high-heel shoes. Even if it only adds a few inches to your total height, those few inches will make you look taller and even slimmer. Furthermore, boots and high-heel shoes have a natural formal element to them. And because leather pants are somewhat formal — not entirely formal — you can't go wrong with a pair of boots or high-heel shoes. Just remember to choose footwear in a color that matches the rest of your outfit.
#4) Black and Purple
Leather pants are available in a variety of colors. Not surprisingly, the most popular choice is black. Black leather pants are attractive, stylish, versatile and look great with a variety of other garments. If you're looking for the perfect top to wear with a pair of black leather pants, consider a dark purple shirt, sweater or blouse. Black and dark purple is an eye-catching color combination that's guaranteed to enhance your appearance. You can also choose a light color that contrasts with black, such as white. White and black is a time-tested, safe combination that also works well with leather pants.
#5) Wear It Like a Rock Star
If you want to achieve rock star image, a pair of leather pants can help. From Elvis Presley and Jim Morrison to Robert Plant and many others, countless rock stars have worn and/or still wear leather pants. They offer a unique and stylish appearance that's different from the world of mainstream fashion. As a result, many rock stars prefer wearing them over traditional pants and trousers. To achieve a rock star look, compliment your leather pants with a matching, casual t-shirt or top. Remember, rock stars typically don't dress formal, so you'll want to avoid overly dressy garments like button-up shirts and blouses. Stick with casual attire when wearing leather pants to create a genuine and authentic rock star look.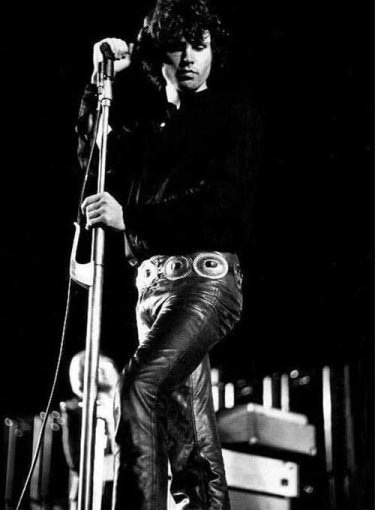 #6) Pair It With a Leather Jacket
There's no such thing as having too much leather in an outfit. Even with leather pants, you can still wear other leather garments, including a leather jacket. A leather jacket in the same color and style as your leather pants create a uniform appearance in which everything flows naturally together.
#7) Wear It With a Sleeveless Shirt
You probably won't be able to do this during winter, but when it's summer you can wear leather pants with a sleeveless shirt. It's a fun way to keep cool while creating a cool style in the process. From tank tops and sleeveless shirts to camisoles and other sleeveless tops, try pairing your leather pants with one of these options.
#8) Accessorize With a Belt
Some people believe that they don't need a belt just because their pants fit. While most people wear a belt to keep their pants on their waist and prevent them from falling down, you can wear them to enhance your outfit as well. A high-quality belt will add extra color to your outfit while helping to define your waistline as well. But you'll want to choose a belt in the right color. Don't just wear a belt in the same color as your leather pants. Rather, choose a belt in a color that contrasts with your pants. You want your leather belt to stand out. Otherwise, it won't offer any real value. And if your belt features the same color as your leather pants, the two items will blend together.
#9) Go Layered
Layered outfits are always a great option, regardless of your personal style. They bring new color, patters and other visual elements to your outfit, thereby creating a more complex look. You can achieve a layered look when wearing leather pants by pairing them with multiple tops. In addition to an undershirt, for example, you can wear a button-up shirt. You can even further layer your outfit by accessorizing it with a scarf. There's no wrong or right way to create a layered outfit with leather pants. Just remember to choose layers in colors that match and flow cohesively with each other. If one layer doesn't match the rest, it will stick out like a sore thumb, preventing you from creating an attractive outfit.
#10) Tuck in Your Shirt
Finally, try tucking your shirt into the waistline of your leather pants. Most people wear their shirt out of their pants — and that's okay. Tucking your shirt into your waistline, however, creates a more slimming appearance while also making your outfit somewhat unique. It doesn't work with all outfits, but it's certainly worth trying if you want to differentiate yourself from the crowd.