With spring fast approaching, there's no better time than the present to reevaluate your wardrobe. While you can always full-length pants like jeans and trousers, leather skirts offer a fun and flirty alternative for fashion-forward women. Made from the same high-quality leather used to make jackets, they offer the perfect combination of style, comfort, durability and versatility. Whether you are going out to dinner, attending a wedding or engaging in just about any other activity, you can't go wrong with a leather skirt. However, there are a few fashion rules you must follow to ensure that you look your very best when wearing a leather skirt.
Genuine Leather
Just because a skirt is labeled "leather" doesn't necessarily mean that it's made with real leather. Unfortunately, some companies use synthetic materials to make skirts. Known as faux or fake leather, it has a rubbery feel to it and chemical-like odor. While faux leather skirts typically cost less than the real thing, this is a case in which the saying "You get what you pay for" holds true. Faux leather lacks the attractive qualities and characteristics that makes leather such a prized textile. For these reasons and others, it's recommended that you choose a genuine leather skirt.
 Form-Fitting
When choosing a leather skirt, consider the way in which it hugs your body. If you want to show off your figure, it's recommended that you wear a form-fitting leather skirt. As the name suggests, form-fitting skirts sit closer to the skin, thus enhancing and defining your figure. This doesn't necessarily mean that you have to choose a skin-tight leather skirt. Rather, choose a leather skirt that contours to your body and doesn't have an excessive amount of fabric. Form-fitting leather skirts such as this offer a timeless, classic appearance that's guaranteed to enhance your image.
Furthermore, most women will agree that high-quality form-fitting leather skirts are more comfortable than baggy skirts with excess fabric. If a skirt has an excess amount of baggy fabric, you may find that it's uncomfortable to wear for a long period of time. Opting for a form-fitting leather skirt eliminates this problem, giving you the highest level of style and comfort possible.
Classic Color
As with most garments, it's important to choose the right color when shopping for a leather skirt. Assuming you buy your leather skirt from LeatherCult, you can choose from one of dozens of different colors. Although a fun color like tangerine may sound like a good choice, though, it's best to stick with a classic color like black, brown, white, red, etc. Classic colors such as these are easier to match than bolder, lesser used colors. And since they are easier to match, you'll have more options available when choosing your outfit. You can still experiment with bold colors, but if you're having trouble selecting a color, it's probably a good idea to stick with a traditional color.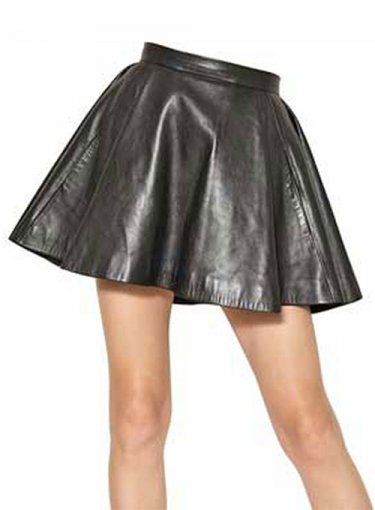 Layer Your Top
If you really want to turn heads with your leather skirt, consider pairing with a layered top. In other words, don't wear a single t-shirt with your skirt but instead wear multiple shirts or layers. A fun combination that looks great with leather skirts is a traditional blouse top layered with a cardigan or jacket. As long as the colors match and flow cohesively together, this creates a dynamic, head-turning appearance. Additionally, wearing layers is a great way to keep warm when it's cold outside. Of course, this is just one of many ways to layer your top. Feel free to experiment with other combinations to see what works best for your needs. Through a little trial and error, you'll find the perfect layered combination to compliment your leather skirt and create a stunning image.
Check the Length
Leather skirts are available in a wide range of lengths. Short shorts are typically referred to as mini, while medium-length skirts are midi and long-length skirts are maxi. So, which one should you choose? It really depends on your personal preference and the occasion on which you intend to wear it. Formal occasions, for instance, generally call for longer length skirts than casual occasions. If you're having trouble finding a leather skirt in your desired length, try shopping here at LeatherCult. We offer custom sizing on all leather skirts and garments. You tell us your desired length, and we'll create a customized leather skirt designed specifically for you. This eliminates the otherwise tedious and time-consuming process of visiting dozens of retail and department stores.
Condition It
Like all garments and products made of genuine leather, leather skirts require conditioning to preserve their integrity. This typically involves a monthly application of a leather conditioning product like saddle soap. Conditioning products like this are designed to moisturize leather and protect it from damage. When leather becomes dehydrated, it may crack open. Unfortunately, there's no easy way to repair leather once this damage has happened. The good news is that you can protect your leather skirts from dryness by moisturizing it with a conditioning product. Try to get into the habit of conditioning your skirt once a month for optimal protection.
Accessorize It
Finally, don't be afraid to accessorize your leather skirt. The right accessorizes can make a world of difference in your overall appearance. A belt, for example, is a simple accessory that adds new color and style to your outfit. Even if it doesn't serve any functional purpose, a belt will still enhance your appearance with new color and style. Other accessories to consider wearing with a leather skirt include a matching handbag, a necklace, earrings and a bracelet.
Following these seven tips will help you create a stylish appearance when wearing a leather skirt. The most important tip, however, is to choose a high-quality leather skirt. Don't attempt to cut corners by wearing a skirt made of low-quality or faux leather materials. Stick with a genuine high-quality skirt if you want to turn heads.