Are you thinking about buying a leather skirt? More and more women are including leather skirts in their outfits, and for good reason. Leather skirts are attractive, versatile, comfortable and low maintenance. While all of them feature the qualities, though, they are available in a variety of different styles. You'll need to choose a leather skirt in the right style to take full advantage of its benefits. Below are seven popular styles of leather skirts you need to know.
#1) Bow Front
Bow front is a leather skirt style that lives up to its namesake by featuring a bow on the front. The bow is typically located at the top-front of the skirt's waistline. It adds a unique visual element that enhances the skirt's aesthetics. Bow-front leather skirts are still made of real leather. They are simply distinguished from other leather skirts by their use of a bow.
If you're struggling to choose a leather skirt, you can't go wrong with a bow-front leather skirt. It's become an increasingly popular style of leather skirts that will likely only become more popular in the years to come. Bow-front leather skirts offer a simple and classic style that's embellished with a bow on the front.
#2) Two Tone
Not all leather skirts feature a single color. Some of them feature two colors. Known as two-tone leather skirts, they offer a more modern appearance than their single-colored counterparts.
There are different colors in which two-tone leather skirts are made. Some of them feature black and white, whereas others feature red and white. Depending on where you shop for a two-tone leather skirt, you may even have the option of choosing your own color combination. Regardless, two-tone is a style of leather skirts that's characterized by the use of two colors. With two colors instead of one, they offer a unique and modern appearance that many women prefer.
#3) Quilted
Another popular leather skirt style is quilted. Quilted leather skirts are defined by their quilted construction. They are still made of real leather. As shown in the photo below, however, they don't have a flat and smooth surface. Rather, quilted leather skirts feature a quilted construction that manifests in the form of a patterned and textured surface.
Quilted leather skirts feature a similar construction as quilted leather jackets. They are both made of real leather that's stitched together to form a quilted pattern. As shown in the photo below, they typically feature diamond- or square-shaped patches. Within these patches is stuffing that gives the leather more volume.
Why should you consider a quilted leather skirt? Aside from being stylish, they are exceptionally warm. Quilted leather skirts, in fact, are warmer than most other types of leather skirts. Their quilted pattern creates additional insulation that traps your body heat. For the fall and winter months, wearing a quilted leather skirt will help protect you from the cold weather.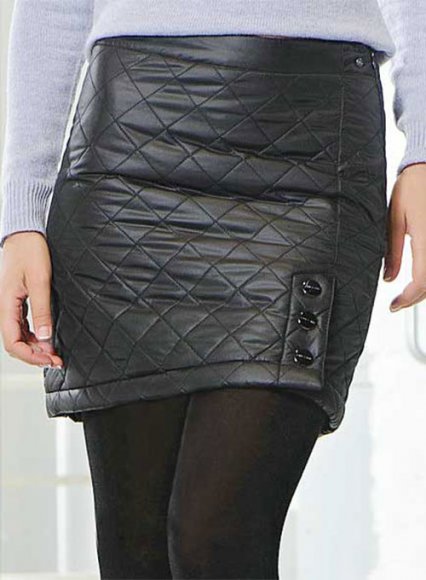 #4) Layered
There are also layered leather skirts. Layered is a leather skirt style that features multiple layers. Most layered leather skirts have three or more layers. Each layer essentially overlaps another layer, resulting in a layered appearance.
Layered leather skirts are great for nearly all casual outfits. They are available in a wide range of colors — black, red, white, yellow, etc. — and they are made of high-quality leather. With multiple layers, though, layered leather skirts offer a stylish alternative to traditional leather skirts. If you're looking for a new leather skirt to include in your casual outfits, you may want to choose the layered style.
#5) Petal
Petal is a style of leather skirts that's characterized by a petal-like shape. In other words, they taper outwards towards the bottom. The top of a petal leather skirt will sit directly on your waist. Petal leather skirts, though, will become wider towards the bottom. With their tapered shape, they look like the petal of a flower.
Petal leather skirts are naturally flattering. They taper towards the bottom to create a more attention-grabbing appearance that complements your body. And like with the other styles listed here, you can find petal leather skirts available in many colors. Maybe you prefer a traditional brown-colored petal leather skirt, or perhaps you want a bolder color like red or yellow. Regardless, you can find a petal leather skirt available in your preferred color; you just need to shop at the right place.
Here at LeatherCult, for instance, you can choose from 50 colors when shopping for a petal leather skirt. You can also choose a custom size. Instead of ordering a generic-sized petal leather skirt, you can order it in a custom size so that it fits perfectly.
#6) Pencil
Of course, you can find leather skirts available in a pencil style as well. What is a pencil leather skirt exactly? Pencil leather skirts are defined by a straight cut and a long length that sits closely against your body when worn.
You won't find pencil leather skirts available in short lengths. Mini and other short-length skirts aren't available in the pencil style. Rather, pencil leather skirts are all long. They have a long length in which the leather sits closely against your body without tapering or otherwise widening towards the bottom. They are known as "pencil leather skirts" because they resemble the long and narrow shape of a pencil.
#7) Pleated
There are even pleated leather skirts. Pleated is a style of leather skirts that features permanently folded sections of material. Known as pleats, you can find these folded sections of material around the front, sides and back.
Some women prefer pleated leather skirts because of their superior level of comfort. Like with pleated trousers, pleated leather skirts are able to flex with your body. When sitting, the folded sections of fabric will flex so that your pleated leather skirt doesn't constrict your body. Without pleats, conversely, you may discover that some skirts are uncomfortable when sitting for extended periods. As a result, pleated leather skirts have become a popular choice among many women.