Jackets aren't the only type of garment made of leather. You can find shorts made of leather as well. Leather shorts have become a popular alternative to traditional shorts. With their leather construction, they are soft, comfortable and stylish — three qualities you won't find in many other types of shorts. If you're thinking about buying a new pair of leather shorts, though, there are several things you'll need to consider.
#1) Length
The length of leather shorts can vary. Some leather shorts are long, whereas others are short. As a result, you should consider the length when shopping for leather shorts.
What's the best length for leather shorts exactly? It really depends on your personal preference as well as the time of year when you intend to wear them. Some people prefer longer leather shorts. Others prefer leather shorts in a shorter length. During the spring and summer, a shorter length will keep you cool. Conversely, a longer length will keep you warm during the fall and winter months.
#2) Waistline
You should consider the waistline when shopping for leather shorts. In other words, what type of waistline do the shorts have? All leather shorts have a waistline. The waistline is the top band of material that wraps around the shorts. Some of them, though, have different waistlines than others.
There are leather shorts with elastic waistlines, for instance. An elastic waistline allows the leather shorts to stretch when worn. There are also leather shorts with traditional, non-elastic waistlines. Non-elastic waistlines are typically designed with belt loops that you can wear the shorts with a belt.
#3) Standard or Cargo
Like with most shorts, leather shorts are available in standard and cargo styles. Standard leather shorts are the most common. They've been around for many decades, all while offering a traditional appearance that's become synonymous with casual wear.
Cargo leather shorts, while newer and not as common, offer a unique appearance. They are designed with cargo pockets on the side, thus projecting a unique appearance that distinguishes them from standard leather shorts.
Why should you choose cargo leather shorts? Here are a few benefits of cargo leather shorts:
Large and deep pockets
Unique style
Soft and comfortable to wear
Long-lasting
Easy to maintain
Looks better with age
Allows for air circulation
Ideal for outdoor usage
Doesn't shrink
Available in custom sizing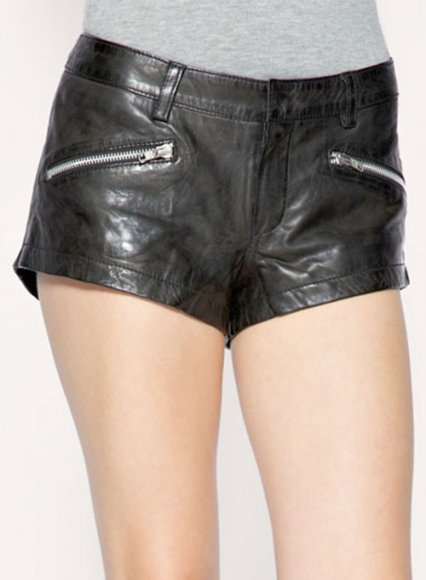 #4) Pockets
Don't forget to inspect the pockets when shopping for leather shorts. Most leather shorts are designed with pockets. Whether you choose a standard or cargo leather shorts, they'll probably have multiple pockets. With that said, the number of pockets, as well as the size of these pockets, can differ.
Regardless of the style, take a moment to inspect the pockets before buying a new pair of leather shorts. You should specifically check to see how many pockets the leather shorts have, where the pockets are located, and how big or deep the pockets are.
#5) Type of Leather
Of course, you should consider the type of leather when choosing leather shorts. All leather shorts are made of leather. The use of leather is what distinguishes them from traditional shorts, such as those cotton shorts. Nonetheless, there are many different types of leather, some of which are better than others.
Faux leather is the worst type of leather. It's not actually real leather. Faux leather is fake leather consisting of a synthetic material. Also known as artificial leather or pleather, it's usually made of polyester that's coated or finished in polyurethane.
Instead of faux leather, consider choosing leather shorts made of napa leather. Napa leather is real, premium leather. It's considered one of the highest quality types of leather, in fact.
#6) Color
Leather shorts are available in dozens of colors. Regardless of the style, you'll need to consider the color when shopping for leather shorts. The color will ultimately determine the clothes and accessories with which you can wear them. By choosing leather shorts in the right color, you'll be able to wear them in more of your outfits.
Black is a popular color for leather shorts. It's classic, versatile and flows with most other colors. You can't go wrong with brown, either. Brown leather shorts offer many of the same benefits as their black counterparts.
Whether you choose brown or black leather shorts, you shouldn't have trouble matching them with other clothes and accessories. Black and brown are universal colors, and like all universal colors, they are easy to match. Of course, you aren't limited to choosing leather shorts in either black or brown. You can choose leather shorts in other colors. Many women prefer red leather shorts during the warmer months of the year. Red leather shorts offer a bold and stylish alternative to leather shorts in a traditional color like brown or black.
#7) Fasteners
Finally, you should consider the fasteners when shopping for leather shorts. Most garments feature fasteners in their construction, and leather shorts are no exception. Fasteners are components that are used to hold together — or "fasten" — two or more sections of material.
When shopping for leather shorts, check to see what type of fasteners it features. Many leather shorts have rivets. Rivets are metal snap-like buttons that are typically found along the seams. You won't be able to fasten or unfasten rivets. Rather, rivets are permanent fasteners that hold together the seams. Leather shorts often feature traditional buttons as well. You can find these traditional buttons on the fly. Traditional buttons aren't the same as rivets. You can fasten and unfasten traditional buttons, which isn't possible with rivets.
If a pair of leather shorts don't have buttons on the fly, it will probably have a zipper. Most leather shorts are designed with either buttons or a zipper on the fly. You can find leather shorts in both of these fly styles. Regardless, you should consider all of the fasteners used in their construction. Doing so will help you choose the perfect pair of leather shorts.