In case you didnd't get the memo, leather is back in style. Well, it never really went out of style, but there's been a growing demand for leather garments and accessories in recent years. If you're a fashion-conscious woman who's always searching for new styles, you should consider the eight following leather items. Including these leather garments and accessories in your wardrobe will allow you to create a superior look while differentiating yourself from the crowd in the process.
Leather Skirt
Skirts are available in a variety of fabrics, only one of which is cotton. You'll also find them in polyester, silk, wool and even leather, the latter of which is particularly beneficial. A high-quality leather skirt creates the perfect blend of comfort and style. With its luxurious and supple leather construction, you can rest assured knowing that it will keep you comfortable all day long. And because leather is such a strong and durable textile, you don't have to worry about your leather skirt ripping or succumbing to other forms of damage.
Leather Dress
You can go one step further by sporting a leather dress. Leather dresses offer the same benefits as leather skirts, including an unparalleled level of style and comfort. And like leather skirts, you can find them in a variety of colors, sizes and styles. Whether you're searching for a mini, midi or maxi leather dress, you shouldn't have trouble finding the right one for you. Just remember to choose a leather dress that's comfortable and form fitting.
Leather Belt
Chances are you probably already own a leather belt; it's probably the single most common fashion accessory owned and worn by women (and men for that matter). Nonetheless, a leather belt is too important not to mention in this blog post. Without a belt, your pants may fall from your waistline — an all-too-common problem with oversized garments. However, a leather belt offers more than just support for your trousers. Although it's certainly useful for this purpose, it also defines your waist while adding new colors and textures to your outfit in the process. If you're wearing a white dress, for example, you can define your midsection by sporting a black belt. Even though the belt won't support or hold up your pants (because you aren't wearing any), the black color will contrast to the white color of your dress, thereby creating a stunning appearance that enhances your outfit.
Leather Handbag
No woman's wardrobe is complete without a leather handbag. It's one of the few, perhaps only, accessories in an outside that offers both functional and aesthetic benefits. Using a leather handbag, you can carry cosmetics, money, a mobile phone, credit cards and countless other small but essential items. Most importantly, though, a leather handbag offers a uniquely stylish appearance that's not found in other purses or fashion accessories. It amplifies your appearance by adding new colors and textures to your outfit. And assuming you wear it with other leather garments, it will flow cohesively with your outfit to create a truly spectacular appearance. Just remember to choose a leather handbag in the same or similar style as the garments with which you intend to wear it.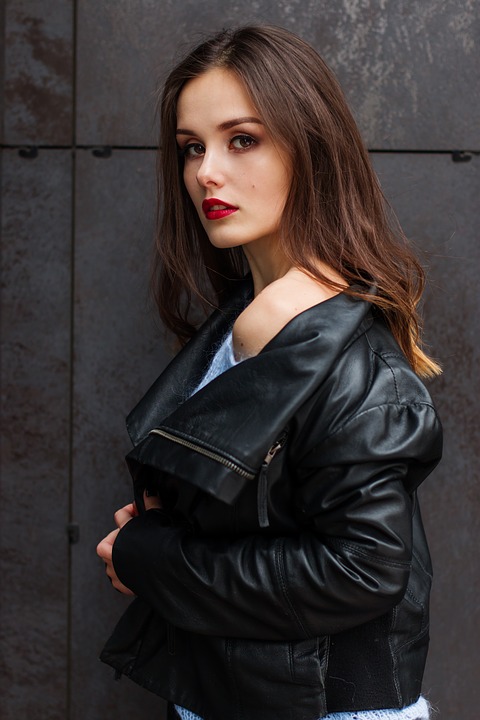 Leather Jacket
We can't talk about essential leather items that every woman needs to own without mentioning a leather jacket. This is perhaps the single most important leather item in a typical woman's wardrobe. Whether it's spring, summer, fall or winter, you can't go wrong with a leather jacket. It's warm enough yet still lightweight and versatile to wear year-round. And since it's made of genuine leather, it will enhance your appearance while creating a more formal outfit in the process. When choosing a leather jacket, pay attention to the style as well as the color. Both the style and color should match your shoes or footwear, which is also an essential leather item that you need to own.
Leather Shoes
Of course, leather shoes are always an excellent addition to a woman's wardrobe. The old days of wearing tennis shoes and athletic shoes are long gone. To leave a lasting, positive impression with your outfit, you must wear the right shoes. Rather than tennis shoes or athletic shoes, choose a high-quality pair of leather shoes. You can wear leather high-heeled shoes for formal events and parties, or you can wear traditional leather loafers or boots for casual occasions. Keep in mind, however, that you'll need to clean and polish your leather shoes on a regular basis to preserve their luster and shine. When neglected, leather shoes will become dirty and faded — problems that are easily avoided by cleaning and caring for them.
Leather Pants
If you're tired of wearing jeans seven days a week, consider investing in a pair of leather pants. Leather pants aren't just stylish; they are super comfortable. In fact, most women don't realize how comfortable they are until they wear a pair. Leather pants are soft, supple and smooth. You can wear them all day long without experiencing any discomfort. This makes leather pants a popular choice for women who are always on the go. But even if you sit in an office for eight or more hours a day, wearing a pair of leather pants is guaranteed to keep you comfortable.
Leather Shirt
You might be surprised to learn that there are leather shirts available. Here at LeatherCult, for example, we offer one of the largest selections of high-quality leather skirts and tops. You can find everything from basic leather t-shirts to leather blouses, outer wear and more. Best of all, we offer customization on all leather products at no additional charge. You tell us your body measurements, and we'll customize the size of your leather shirt so that it fits just right. There's no need to worry about receiving a shirt that's too big or too small. Just specify your body measurements when ordering to get the right fit.