Who says you can only wear a leather dress during the warmer months of the year? While many women do, in fact, wear them during the spring and summer, leather dresses can be worn year-round. Even during the winter, you can include a leather dress in your outfits. It's a fun and fashionable choice of attire that will complement your appearance while keeping you comfortable in the process. If you're planning to wear a leather dress during the winter, though, there are a few things you should know.
Real Leather
It's recommended that you choose a dress made of real leather. Garments made of real leather are typically warmer than their artificial "faux leather" counterparts — and dresses are no exception. A real leather dress will trap your body heat so that you stay warm and comfortable all winter long.
There are different types of real leather from which dresses are made. Napa is arguably the most popular. Originating from the California county of its namesake, napa leather is soft and smooth. At the same time, it's exceptionally warm, making it ideal for use in winter garments. You can still wear dresses made of fake or otherwise artificial leather during the winter; they just won't be as warm as those made of real leather like napa leather.
Sleeves or Sleeveless
When shopping for a leather dress to wear this winter, you'll probably discover some of them have sleeves, whereas others don't have sleeves. Conventional wisdom should lead you to believe that leather dresses with sleeves are warmer than their sleeveless counterparts.
If a leather dress has sleeves, it will cover some or all of your arms when worn. Your arms won't be exposed to the cold weather. The sleeves will cover them so that you stay warm and comfortable. Even if a leather dress doesn't have sleeves, though, you can always pair it with a long-sleeve shirt or top. Wearing a long-sleeve shirt or top under your leather dress will
Dark Color
For extra protection against the cold winter weather, choose a leather dress in a dark color. Why does the color of your leather dress matter? Dark colors tend to absorb, as well as hold, more heat than light colors. If you wear a white dress, it will reflect sunlight while retaining little or no heat. If you wear a black dress, on the other hand, will keep you warmer thanks to the heat-retaining qualities of dark colors.
Black isn't the only dark color in which leather dresses are made. You can find leather dresses available in dozens of other dark colors as well. Maybe you prefer navy, or perhaps you like forest green. Regardless, there's probably a leather dress out there in your desired color; you just need to find it.
Accessorize With Leggings
Another way to stay warm when wearing a leather dress during the winter is to accessorize it with leggings. Dresses aren't designed to cover your legs. While there are many different types of dresses, they'll all leave your legs exposed to the cold weather. Fortunately, you can protect your legs by wearing a pair of leggings.
Leggings are close-fitting garments that are designed specifically to cover your legs. Most women wear them in conjunction with other garments, such as a dress. You probably won't need leggings when it's warm outside. During the winter, however, a pair of leggings can prove invaluable. They'll cover and insulate your legs, thereby keeping you comfortable during this otherwise cold time of year.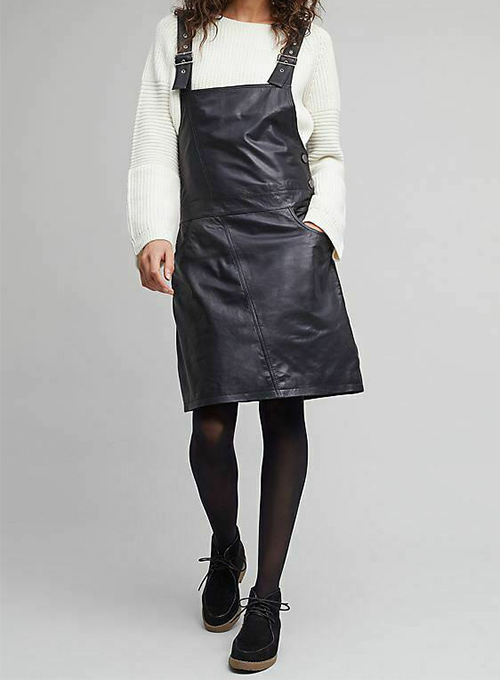 Double Up With a Jacket
You can wear a jacket with your leather dress for extra protection against the cold winter weather. The right jacket can make a world of difference in your comfort level. It will cover your arms while insulating your entire upper body in the process.
For a more complete outfit, choose a leather jacket to wear with your leather dress. With a leather jacket and a leather dress, your outfit will look more cohesive. You can choose a leather jacket in the same type of leather, as well as color, as your leather dress. When these two garments match, you'll have a more complete outfit that lifts your appearance.
Doubling up your leather dress with a jacket is one of the easiest and most effective ways to stay warm when it's cold outside. With that said, you need to choose a thick and insulated jacket, which is why leather is a good choice. Leather jackets are both thick and insulated. While other jackets are thinner and offer minimal insulation, the opposite is true for leather jackets. Wearing a high-quality leather jacket with your leather dress is a surefire way to stay warm.
Cover Your Hands
Depending on how cold it is outside, you may want to cover your hands when wearing a leather dress. Whether it's made of leather or any other material, a dress won't cover your hands. The good news is that you can wear a pair of gloves to cover your hands.
Gloves are an invaluable fashion accessory for the winter season. They'll add color to your outfit while also covering and insulating your hands. There are other accessories with which you can wear a leather dress, such as a scarf, but none are more important than gloves.
Long Length
When choosing a leather dress to wear this winter, pay attention to the length. The longer it is, the warmer it will be. There are mini, midi and maxi leather dresses available. Mini leather dresses have the shortest length, whereas maxi leather dresses have the longest length. Midi leather dresses, as you may have guessed, fall somewhere in the middle.
Don't choose a leather dress in just any length. Instead, choose a long leather dress that extends relatively far down your legs when worn. If you order a leather dress from LeatherCult, you can customize the size.