What's the world's most popular style of outerwear you ask? It's the leather jacket, of course!
With origins dating back more than a century, the leather jacket has become synonymous with classic fashion. But unlike other "old" fashion trends, the leather jacket is just as popular today as it once was back in the early 1900s. In fact, some people may argue that it's even more popular now, thanks in part to the countless variations and design choices that are available. Nonetheless, some men and women prefer to jackets that are not unconventional and don't flow with the mainstream trends. If this sounds like you, you'll be pleased to hear that the leather jacket is available in many newer, less traditional styles. To learn more about these new-age styles, along with tips on how to choose the right one, keep reading.
Going Long
As you may already know, leather jackets traditionally stop right at or around the waistline. This isn't limited strictly to leather jackets, as most jackets and coats are designed with this standard, universal length. But in recent years, there's been a growing demand for longer leather jackets, which has prompted some companies to produce leather long coats. These leather long coats offer the same attractive benefits as standard leather coats but with a longer length. It's not uncommon for a leather long coat to extend all the way to the knees, or in some cases, even farther.
So, is a leather long coat the right choice for you? It really depends on what you hope to achieve from wearing it. The longer length makes it ideal for cold weather climates, as it keeps you warmer than a standard jacket or coat. At the same time, the longer length also adds a new visual dynamic to this classic garment.
Genuine Leather
In the past, and even today, many manufacturers have tried to cut corners and save money by selling fake/faux leather jackets. To the unsuspecting customer, these jackets may look real. But if you were to compare a 100% genuine leather jacket with a faux leather jacket, you would realize this isn't the case.
Faux leather jackets have a harder, more synthetic feeling to them. This makes them less comfortable to wear, and it also reduces their overall versatility. If you are doing to invest in a leather jacket, make sure it's made with 100% genuine leather. There's no substitution for genuine leather, regardless of what other companies want to tell you.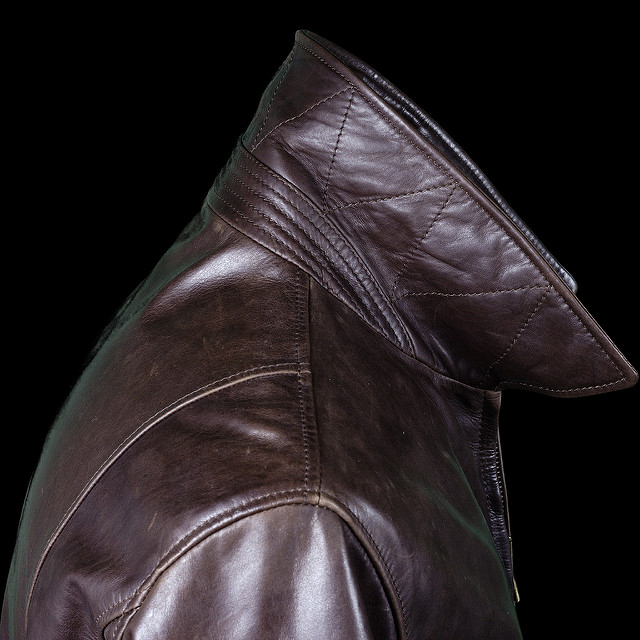 Movie-Inspired Leather Jackets
There's also been a growing demand for specific styles of leather jackets that are worn or otherwise featured in big-budget blockbuster movies. In the critically acclaimed Marvel superhero movie The Avengers, for instance, Nick Fury (played by Samuel L. Jackson) wears a stylish leather trench coat. After becoming one of the most successful movies of all time, fans have been scouring local stores and online retailers in search of this jacket.
Oh, and if you're having trouble finding the leather jacket worn by Nick Fury in The Avengers, click here. Of course, LeatherCult has many more movie-inspired leather jackets, so don't limit yourself to choosing Nick Fury's from The Avengers. Feel free to browse around to see what all leather jackets we have to offer.
Colors, Colors and More Colors!
When you think of leather jackets, what's the first color that comes to mind? If you answered "brown," you aren't alone. Most people automatically associate brown and tan colors with leather jackets. Ever since the leather jacket was first pioneered, tan and brown have been the most popular colors. However, companies have since begun to make the leather jacket in other colors. If you shop here at LeatherCult, for instance, you can choose from 50 different colors. Whether you prefer the traditional brown and tan colors, if you want a more unique color like yellow or red, you can rest assured knowing that we have it.
Quilted Leather Jacket
Another fun alternative to the traditional leather jacket is a quilted leather jacket. A quilted leather jacket is a standard leather jacket but with quilted material added to it. Why would you want to wear a quilted leather jacket over a traditional leather jacket? Well, one of the most common reasons for choosing this style is the increased warmth and protection from the elements. The quilted material provides extra insulation, making it warmer than standard jackets. And with the winter season right around the corner, there's no better time than the present to update your wardrobe with cold weather clothing and outwear.
You might be wondering where exactly to buy a quilted leather jacket. After all, most retail and department stores do not carry them. Well, we take the burden of finding genuine, high-quality quilted leather jackets off your shoulders. Simply choose a leather jacket that you like on our website, add it to your cart, and choose the "add quilting" option during checkout. We offer quilting on all of our leather jackets.
Blazers
The leather blazer is the perfect choice for women and men alike who want to achieve a unique look. It features the same general shape and style as any ordinary blazer, but it's made with genuine leather instead of cotton or other materials. And because it's made of leather, the leather blazer is an excellent and highly stylish choice of outwear. It's comfortable, stylish and easy to match with other garments and accessories. With that said, you should keep in mind that leather blazers are a bit longer than traditional jackets. So if you prefer shorter and more traditional-length jackets, perhaps you should skip the leather blazer and choose a different style.
These are just a few of the many new leather jacket styles that are gaining popularity. The truth is that no one knows which direction the world of fashion will go next. But the good news is that you can keep on top of the latest trends by choosing any of the styles mentioned above.